Indoor Air Quality
You may think that comfort is all about temperature, but this could not be further from the truth. Yes, it is vitally important that you are able to maintain comfortable temperatures in your commercial property. However, your commercial indoor air quality in Round Rock, TX is every bit as important as the temperature therein in terms of overall comfort.
If you are at all dissatisfied with your property's indoor air quality, don't despair; for every problem, there is an appropriate solution, after all. Just remember that you must work with a professional commercial indoor air quality technician if you hope to overcome those plaguing the quality of the air in your commercial space. To do so, just give us a call. Express HVAC Service is the company that you can count on to clean up the air that everyone in your commercial property breathes.
Signs of Subpar Commercial Indoor Air Quality
You may not even realize that there is a problem with your commercial indoor air quality, even if you feel the ill effects that such problems can have on comfort. This is precisely why it is so necessary that you learn to recognize the signs that your commercial indoor air quality is suffering. First and foremost, remember to listen to your clients, tenants, and/or employees. If they are complaining about aggravated allergy symptoms, trouble with their HVAC systems, or other issues, you should give us a call right away. Also, pay attention to any dirt and dust level increases in your property. Airborne pollutants settling onto surfaces can make it tough to keep on top of cleaning.
What Causes Subpar Commercial Indoor Air Quality?
There are a lot of different reasons as to why you may have lousy indoor air quality in your commercial space. Perhaps you have a restaurant, and your ventilation system in the kitchen is subpar. Maybe there are environmental factors to consider, such as close proximity to roadways or wooded areas. It could also just be the nature of your business, such as if there is manufacturing going on and requiring the cutting of materials. No matter what the problem may be, we'll help you to clean up the air that you and your clientele or workforce are breathing within your commercial space.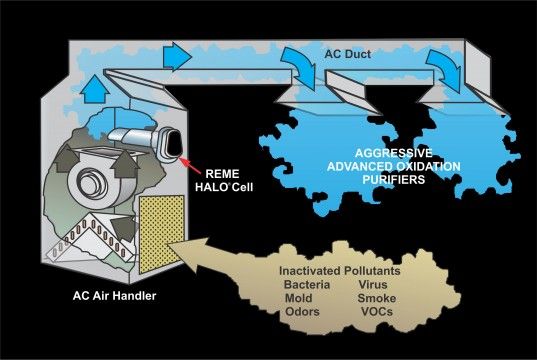 REME HALO® whole home in-duct air purifier
The award winning REME HALO® whole home in-duct air purifier is the next generation of indoor air quality (IAQ) technology and capable of purifying every cubic inch of air that your central air conditioning system reaches. Designed to eliminate sick building syndrome risks by reducing odors and air pollutants, the REME HALO® whole home in-duct air purifier is the best solution for whole house and building air purification.
Invented to recreate nature's process of purifying the air, it's like bringing fresh outdoor air inside without ever having to open your windows. And it's effective against all three categories of indoor air pollutants: Particulates, Microbial and Gases.
You can now reduce common allergy triggers from particulates such as pollen, mold spores, dander and dust. Thoroughly tested on airborne and surface bacteria & viruses, such as MRSA, e-coli, and Norwalk, to name a few. Say goodbye to odors from cooking, pets, dirty socks, diaper pails, and musty rooms.
REME HALO® Air Purification System
The REME HALO® in-duct air purifier utilizes RGF's proprietary Reflective Electro Magnetic Energy technology. Installed into the supply plenum of your existing air conditioning or heating system air ducts, the REME HALO® in-duct air purifier produces Hydro-Peroxide plasma that is distributed through the air handler, through the duct system and into the conditioned living space. Unlike passive air technologies, which need pollutants to pass through the unit for purification or filtration, the REME HALO® in-duct air purifier sweeps through your home actively purifying pollutants at the source.
Call us at 512-819-6805 or Contact Us For More Information